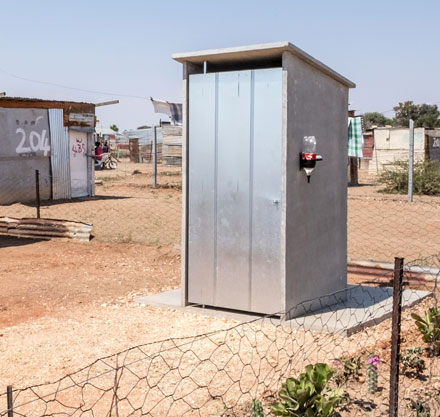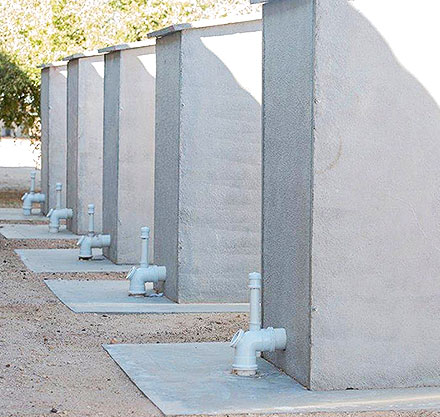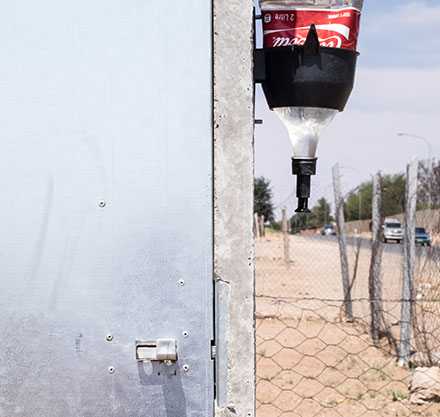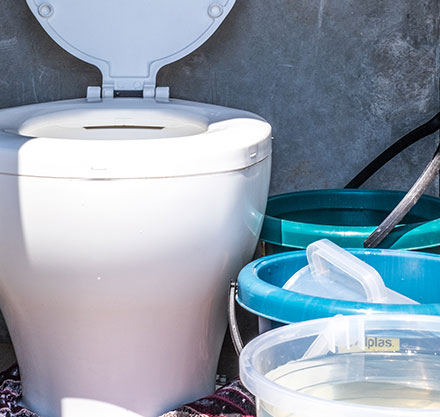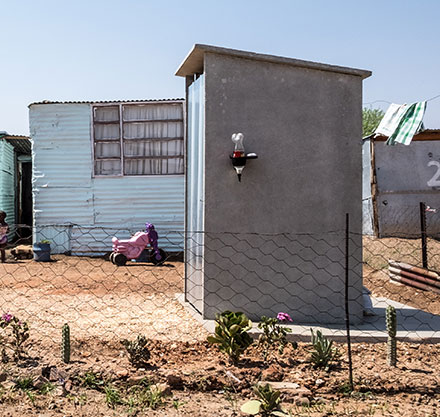 Technical Specifications
Our Pour-Flush toilets feature an innovative flushing mechanism that allows users to pour water into the toilet and flush away waste.
The lightweight material reduces handling and transport costs, and local, unskilled labourers can do the installation without any machinery. The structure can be relocated to a new pit once the first pit is full – moving can be done without dismantling of the structure. The durable cement-based material cannot corrode or rot.
Unique features
Looks like a flush toilet
Has a water seal which eliminates odours and insects
Users to not see content of pit when using the toilet
Users do no use toilet as a solid waste disposal pit
Regarded to be safer than a pit latrine and is safer particularly for small children to use
Sludge is easier to remove that the VIP sludge as it is wetter and trash free
Sludge accumulation rate is half that of VIP Toilets so the pit life is significantly longer
Uses only 1 to 2 litres of flush, this depends on whether users have urinated of defecated, and whether toilet paper or newspaper was used for anal cleansing.
No toilet leaking 24/7, using up precious and limited water resources.
Less expensive to build as it does not use a septic tank or soak pit combination but rather a single leach pit.
Very easy to use grey water for flushing! Simply pour the grey water in a bucket in the toilet, so no special plumbing needed.
Resources & Downloads
We have included a few resources that you may download to assist you with your project planning. Click on the download links below to start downloading. Please don't hesitate to contact us if you need any additional information.
Downloads
In this configuration the toilet superstructure sits directly over a single leach pit (this is similar to the normal single VIP pit).
Pit lining
The toilet structure can be used in combination with a wide variety of pit linings.
Round pit

1 m deep interlocking GRC panel pit collar
Standard Dimensions: 1.5 m diameter and 1m deep
Capacity 1. 8m³ (for a 3m³ pit capacity the pit can be increased to 1.7m deep)
Square pit

Square GRC box pit that can be raised above ground as well if necessary
Standard dimension: 1.7 m X 1.7m X 1m deep – Capacity 3m³
For high water table and shallow rock
In this configuration the toilet superstructure does not sit directly over the pit. Two leach pits are installed approximately two meters behind the structure and approximately one mater apart.
These pits can also vary in shape, depth and volume but we recommend the following:
Two round pits

1m deep interlocking GRC panel pit collar
Standard dimensions: 1m diameter x 1m deep
Capacity 0.8m³ X 2 = 1.6 m³